OE Marching Band Starts 2020 Marching Show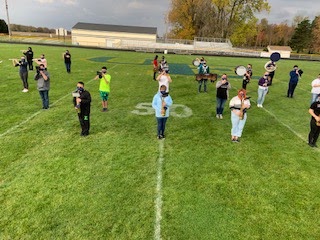 The Ovid-Elsie High School Marching Band has officially started their 2020 marching show. This year's show is Moana. The songs that they will play are How Far I'll Go, We Know The Way, and You're Welcome. Some changes have been made to keep members of the band safe and these changes include wearing masks while the students play their instruments and not moving as much. The band was not able to have a band camp during the summer like they have in years previous due to the Covid-19 pandemic.

Senior Abigail Cooper was asked about what she thinks about this marching season. Cooper said, "I'm finding the sets easier with the marching show. The straight lines make it easier to know where I am or see where I should be. It's difficult to see the Underclassmen having a harder time marching because they did not get the basics we did. With the rushing, we also can't have separate rehearsals for music and marching. The lack of band camp really hurt us."

This year's high school freshmen have never marched in a marching show before and are having a harder time since they didn't get an opportunity to learn before school started.

Freshman Carter Hebeler was asked the same question and he answered, "I think it is kind of in the middle because it is easy once I learn it. However, when I am told to do something new I am completely lost and just listen to the people around me to tell me where to go. But once I get it I will have it neurally down."

Band Director Jeanine Ignash said that the band's first marching performance is scheduled for Nov. 16th, 2020 for the time being. That gives the band five in-class practices to put as much of the show together as they can.

The upperclassman and staff are doing what they can to help the freshman as much as possible. This year will be interesting for them, but they will persevere.