Netflix Holidate In Time for The Holidays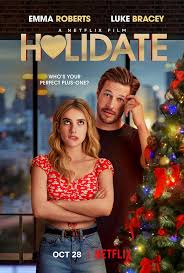 Holidate is set in Chicago, two strangers who have terrible luck with relationships agree to be
each
other's holidates. Simone, played by Emma Roberts, is tired of her family judging her love life at
every family gathering so she takes the situation into her own hands. After meeting Jackson,
played by Luke Bracey, at the local grocery store, the two agree to
have a platonic plus one relationship for every family event they have.
As time goes one of the two realize they have actual feelings for
each other. Siomone doesn't want to accept the fact that she could like
a guy like Jackson, which leads to her pushing him away. Simone soon
overcomes her fear of being with Jackson and attempts to win him back
by giving a speech in front of everyone at the mall. The film ends with
the two becoming a real couple. The romantic holiday film was directed
by John Whitesell this year. The netflix film is rated TV-MA, containing
strong language and vulgar jokes. Holidate received a 44% rating on
Rotten Tomatoes, saying, ?Holidate's self-aware approach to rom-com
formula is refreshing, but it's offset by a questionable premise and
unnecessarily vulgar jokes. ? My personal opinion on the movie is that it
is a great romantic comedy for young adults, giving Holidates a 8/10
rating. The film can be watched with a Netflix subscription.