Ginny and Georgia Worth Watching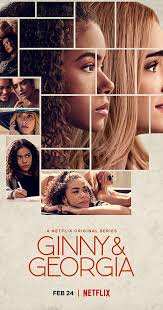 Ginny and Georgia is a new show that was released in the beginning of 2021. Ginny and Georgia packed up and left Texas and went to Wellsbury, Mass. looking for a new fresh start after Ginny's stepdad died. Georgia, Ginny's mother only wants the best for Ginny and her son Austin and wants to keep them protected in every way she can. She especially wants to protect Ginny from what she went through when she was younger. Ginny eventually finds out her mother has been lying to her and only wants the truth.
This tv show stars Antonia Gentry, Brianne Howey, Diesel La Torraca, Jennifer Robertson, Felix Mallard, And Sara Waisglass.
This tv show was produced by J. Fisher, Daniel Iron, Jenny Daly. The director is Anya Adams.
Ginny and Georgia was released on Feb. 24th, 2021 and in the comedy genre. There's only one season so far.
Rotten Tomatoes says 68% people enjoy this show. I would rate 8/10. I enjoy the show because I enjoy comedies and drama. The show is a mixture of those genres. Also the relationship between Ginny and her mother Georgia is very interesting throughout the show and especially when Ginny finds out she has been fed with a lot of lies.