Emily in Paris Tries to Impress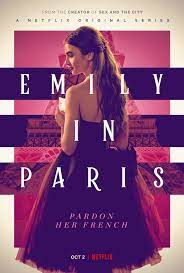 Emily in Paris is a new show that was released on Netflix in 2020. Emily, a marketing executive from Chicago, unexpectedly lands her dream job in Paris when her company acquires a French luxury marketing company. She is trying to get everyone in Paris to like her but her not being able to speak French isn't helping. The lady she is working for isn't really impressed by her so far so Emily is trying everything she can to impress her.
This tv show stars Lily Collins, Ashley Park, Philippine Leroy-Beaulieu, Lucas Bravo, Samuel Arnold, and Camille Razat.
This tv show was produced by Lilly Burns and Andrew Fleming. The director is Darren Star.
Emily in Paris was released on Oct. 2, 2020 and is in the comedy genre. There is only one season so far.
Rotten Tomatoes says 63% people enjoy this show. I rate this 9/10. I enjoy lots of comedies. It's interesting that she got an offer to work in Paris when she doesn't know a lot about Paris but she is giving her best to impress the lady she works for and getting used to Paris.