OE Boys Varsity B-ball Bows Out of Districts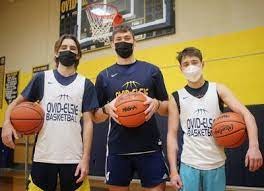 On March 23rd the Ovid-Elsie Marauder Varsity basketball team played against Lake Fenton at 7 p.m. in Lake Fenton in the first round of districts. The marauders lost this game 42-24 with leading scorer Jackson Thornton with 7 points.
On defense Cal Byrnes led the team with 3 steals. Winning this game, Lake Fenton moves on to play Chesaning losing that game and being eliminated from districts.