Ant Man and the Wasp, A Comedic Thrill Ride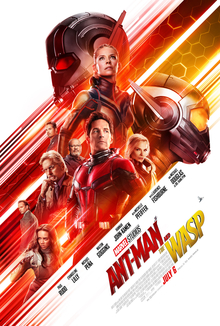 Ant-Man and the Wasp is a 2018 Marvel superhero action film based on the Marvel Comics characters Ant-Man/Scott Lang and Wasp/ Hope van Dyne. It's the 20th movie in the Marvel Cinematic Universe and, just like the other Marvel movies, packed with comedy and action and definitely a perfect summer movie.
It was directed by Peyton Reed, produced by Marvel Studios and distributed by Walt Disney Studios Motion Pictures.
The main characters are played by Paul Rudd, Evangeline Lilly, Michael Douglas, Ava Starr and Michelle Pfeiffer.
Scott Lang (Paul Rudd), also known as Ant-Man, struggles with his choices as a superhero and as a father. As he's trying to balance his personal life with his responsibilities as Ant-Man, Hope van Dyne (Evanlinge Lilly) and Dr. Hank Pym (Michael Douglas) confront him with a new urgent mission. Scott must once again put on his suit and fight alongside the Wasp as they reveal dark secrets from their past.
Rotten Tomatoes gave this movie a 87% rating, and I would rate it a eight or nine out of ten, too, because of the great mix of comedy and actions that makes the movie so enjoyable to watch.