Space Jam Relevant 25 Years Later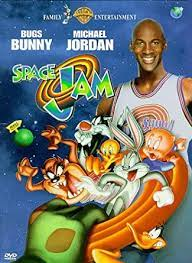 Space Jam, a classic 1996 movie, is still relevant 25 years later. After retiring from the NBA and becoming a baseball player Michael Jordan, who plays himself , after being in a slump after a baseball game, Michael realizes maybe he made the wrong decision on retiring, You see iconic NBA plays such as Larry Johnson, Charles Barkley Muggsey Boggs, Patrick Ewing, And Shawn Bradley make an appearance. The movie is directed by Joe Pytka.
After Playing a golf game with Bill Murray, Larry Bird and Stan Podalk (Wayne Knight) Michael Jordan gets sucked into the Looney Tunes world to play a basketball game with Bugs Bunny (Billy West) and Daffy Duck ( Dee Bradley Baker) and other characters. In order to free the Looney Tunes characters, he must win the game against the monstars to get the talent from the nba stars that was stolen.
The movie's average audience score for Rotten Tomatoes is 63% for the average tomatometer, and the website metacritic gives a 43% rating. Overall, this is a good movie and has mixed reviews.
A quote from Metacritic says," I remember renting the VHS tape from the local video store when iI was a kid. Putting aside the fact that iI know every second of this movie perfectly – I think it's very entertaining for kids, adults and pretty much everyone. An old school animated comedy that will remain in history forever!"
The Movie Space Jam is a very classic movie from the late 90's and its so popular that on July 19th 2021 Space Jam: A New Legacy hits HBO Max but for Space Jam iI give it A 10/10 for instant classic I give this a must watch if you like either basketball or Michael Jordan for pure nostalgia.