Gray Man Provides Plenty of Action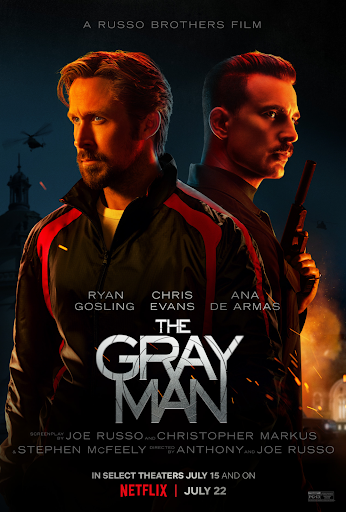 The Gray Man is a 2022 American action thriller film directed by Anthony and Joe Russo, from a screenplay the latter co-wrote with Christopher Markus and Stephen McFeely, based on the 2009 novel of the same name by Mark Greaney it stars Chris Evans(Lloyd Hansen) and Ryan Gosling(Six) headline this Action thriller. 
When the CIA's top asset — his identity known to no one — uncovers agency secrets, he triggers a global hunt by assassins set loose by his ex-colleague.
The movie's average audience score for Rotten Tomatoes is 46% for the average tomatometer, and the website metacritic gives a 90% rating. Overall, this is a good movie and has great reviews
A quote from Metacritic says"There is a Great that feeling that is apparent in every shot and not just because the movie is filmed in bright, low contrast lighting. The film's experienced cast punches their lines in search of jokes that land every time, leaving the action that mixes with thriller.."
Overall I give this film a 9/10 the action scenes between Chris Evans and Ryan Gosling are amazing and I loved every scene they were both in and the scenes they were not in together I'm hoping for a sequel but i doubt they will do a sequel. I didn't anticipate to have Ryan Gosling do amazing in this film but he was underrated.