Rookie Spinoff Follows Transformation of Guidance Counselor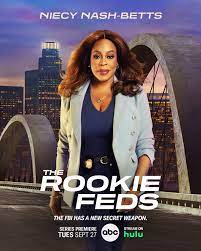 A New ABC drama Which is a spinoff of The Rookie with a new cast and a new direction. The Rookie: Feds is a New spinoff TV show on ABC, but also streaming on Hulu the next day. Alexi Hawley and Terence Paul Winter are the showrunner's, the show's executive producers are Alexi Hawley Terence, Paul Winter, Niecy Nash, Nathan Fillion Michelle Chapman, Bill Norcross, Corey Miller. Leading the cast is an array of cast members are Niecy Nash (Simone Clarke) Felix Solis (Matthew "Matt" Garza, )  Kevin Zegers (Brendon Acres). 
The Rookie: Feds protagonist, Simone Clark, was introduced in a two-part event in series four of the original show which saw Officer John Nolan (Nathan Fillion) call on the new recruit while investigating a terror attack involving one of her former students.  The new series will continue to follow former guidance counselor Simone on her new career path in the FBI. The synopsis for episode one reads: "Fresh out of the FBI Academy, Simone Clark arrives in Los Angeles and has her sights set on joining Matthew Garza's newly formed special unit as they investigate the murder of a federal engineer. 
The movie's average audience score for Rotten Tomatoes is 46% for the average Tomatometer, and the website Metacritic gives a 41% rating. Overall, this is a good tv show and has mixed reviews
A quote from Metacritic says" Season 1 Review: Like its parent show, The Rookie: Feds is watchable because of its star and very little else. But Nash-Betts is just so darn watchable that you'll enjoy the series despite any reservations you may have."
Overall, I give this show a 8/10 It only has two episodes out currently out with episodes coming out Tuesdays at 10pm on NBC as someone who watched the original show I feel like this is connecting the original to the new show very nicely and even hints at constant crossovers which i feel would make this show would be amazing.