The School for Good and Evil Lacks Storyline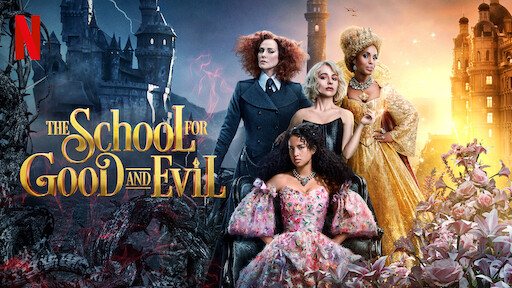 Based on the fairytale fantasy novel by author Soman Chainani, Neflixi's The School for Good
and Evil follows the story of best friends Agatha and Sophie. In the village of Gavaldon the two
misfits share the unlikeliest of bonds. Sophie, a lover of fairy tales, dreams of escaping her
ordinary village life, while Agatha, with her grim aesthetic, has the makings of a real witch. Then
one night under a blood red moon, a powerful force sweeps them away to the School for Good
and Evil, where the true story of every fairy tale begins. Yet something is amiss from the start:
Sophie is dropped into the School for Evil and Agatha in the School for Good. According to the
Schoolmaster, only true love's kiss can change the rules and send the girls to their rightful
school. But when a dark and dangerous figure with mysterious ties to Sophie reemerges and
threatens to destroy the school and the rulebook entirely the only way to a happy ending is to
survive the fairytale first. The main cast of this movie stars Sophie Anne Caruso as Sophie,
Sophie Wylie as Agatha, Charlize Theron as Lady Lesso, Kerry Washington as Professor
Dovey, Jamie Flatters as Tedros, Kit Young as Rafal, Michelle Yeoh as Professor Anemone, and
Cate Blanchett as Storian. The director of this movie is Paul Feig along with producers Laura
Fischer, Jeff Kirschenbaum, Joe Roth, and Jane Startz. Rotten Tomatoes Rated it a 38%
stating,"The cast is game and the visuals are dazzling, but a deeply derivative narrative means
The School for Good and Evil flunks on the storytelling front." While the audience rating was
67%. I Rated this an 8/10 because it's not one of those movies for me where I was completely
captivated, but I still thought it had a good storyline and the actors/actresses did a good job
playing their roles. There were also some differences in the movie compared to the book and I
wished they would have stuck more to the storyline of the book but overall the movie was still good.