Adam Sandler Charming in Hustle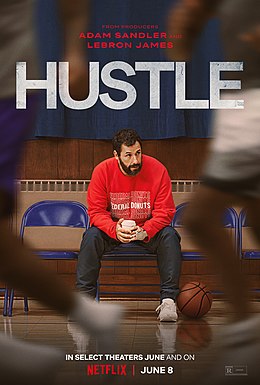 Hustle, a movie about a man named Stanley Sugerman's (Adam Sandler), who's love
for basketball is unparalleled, but the travel weary Philadelphia 76ers scout who has
higher ambitions of being a coach remains stuck on the road looking for the next
unknown talent. His search around the world leads him to Spain, when he discovers Bo
Cruz (NBA player Juancho Hernangómez), an incredible street ball player with a
troubled past. Stanley and Bo connect on and off the court, with their passion for the
game and as loving family men who want to prove they can win, in basketball and in life.
This movie came out this past summer in June and became a popular movie as it has a
93% rating from the Tomatometer and a 93% rating from the audience. Top critic
states," Hustle doesn't have any fancy moves, but it doesn't need them — Adam
Sandler's everyman charm makes this easy layup fun to watch." And I'd have to agree
with them because whether you're a Sandler fan, you love sports movies, or you're just
in the mood for a solid feel good drama, Hustle delivers it all so I rate this movie a 10/10.
Though this movie is not like a lot of the other movies Adam Sandler is in, it is still a
really good movie because what movie with Sandler isn't good? His charm always
captivates our attention. I 100% recommend this movie.