Perks of Being a Wallflower Stands Test of Time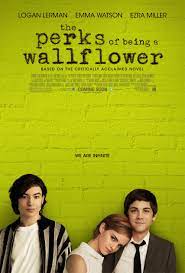 The Perks of Being a Wallflower, a Hulu release, is a heart-wrenching and insightful film. It was released on October 12, 2012. Although it is 10 years old the film's values still apply to today's issues. The Perks of Being a Wallflower is rated PG-13 and is a comedy, drama and romance movie. I would highly recommend this film to mature people who can handle emotional and sensitive topics.
 The film starts with a socially awkward teen Charlie who is a wallflower, always watching life from the sidelines. Along the way, two charismatic students guide him. Sam and her stepbrother Patrick teach Charlie about friendship, love, music and more. As his new friends prepare to leave for college, Charlie's sadness endangers his confidence.
The movie is directed and written by Stephen Chbosky. It stars Emma Watson, Logan Lerman, Ezra Miller and more. On the Tomatometer, it is rated 85% and is certified fresh. The film is also 1 hour and 43 minutes long. I would recommend this movie because of its revealing themes and insightful viewpoints.