Elvis, A Fast-Paced Movie Trailer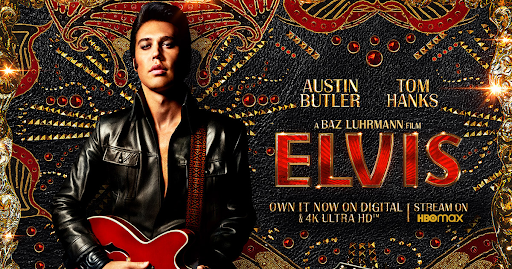 The newest edition to Baz Lurhman's filmography, Elvis, is an electric biopic featuring the ups and downs of the life of the King of Rock and Roll. 
The film is a biographical movie about Elvis's life, from childhood to death. When he was young, Elvis' father was jailed and his family had to move to an African American neighborhood, where he was exposed to soul music. It can be seen that the music has a big impact on his life and music career. He begins as a "white boy with a black voice" and soon turns into the most popular musician and biggest heartthrob in the world. At the peak of his popularity, he is signed with his manager, Colonel Tom Parker, who takes advantage of his money and performance. 
Elvis can best be described as a 159-minute-long trailer. The movie is extremely fast-paced and it is easy to get confused. Visually, Baz Luhrman is proficient at maximalist cinematography. The movie is like watching a video collage, with flashy colors and images throughout most of the movie. As someone who is a fan of this style, I loved it. For some, however, this can take away from the movie. 
Austin Butler's performance as Elvis is enthralling. He mastered the singer's mannerisms, dancing, and singing voice. The part definitely moved Butler up from a "cheesy love-interest" type cast to an A-list actor. However, The Colonel may have been Tom Hank's worst role. His accent and mannerism choices are not dynamic and hard to watch. 
The Tomatometer rated Elvis a 77%. I would rate it four stars. I really enjoyed this movie and will watch it again and again.