Eagle Eye Action Thriller Worth Seeing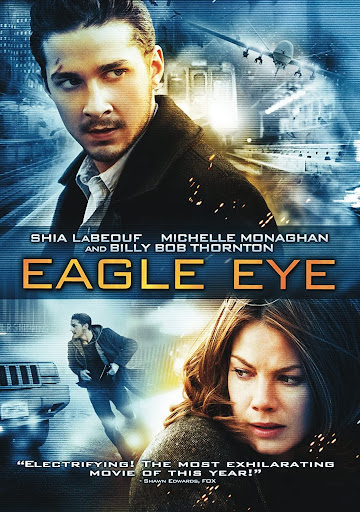 Eagle Eye is a suspenseful action/thriller movie that leaves you wanting more, guessing on what comes next, it's a story that has you on the edge of your seat. Released in 2008, I definitely recommend this movie to anyone who likes a movie that pulls you in, curious on what is going to happen as the plot unfolds.
Eagle Eye stars Shia LeBouf (Transformers 1, 2, & 3) Michelle Monaghan, Anthony Mackie, Rosarie Dawson and Billy Bob Thornton and the late Cameron Boyce. I feel as if each actor was the perfect fit for each character being portrayed in the movie. Shia LeBouf does an amazing job playing Jerry Shaw and his twin brother Ethan Shaw.
It was filmed near Indianapolis, Indiana and some scenes were shot at Indianapolis International Airport.
Plot consists of Stanford Univ. dropout Jerry Shaw who then finds out his twin brother Ethan Shaw working for the US Air Force was killed. He then finds 750,000deposited into his account and comes into his apartment with illegal firearms and materials to make bombs. The FBI then raids his apartment and arrests him under conspiracy of terrorism. He then receives a mysterious phone call from a woman who tells him he must follow her directions and orders or she will have him killed, she uses communication technology and nationwide information to control and threaten Jerry. She helps plan his escape from FBI custody and leads him to single mother Rachel Holloman, who had her son's life threatened. The mysterious lady uses both of these ploys to force Jerry and Rachel to complete a series of tasks for her political agenda, if they refuse Rachel's son dies and Jerry will be killed.
Their movie was given 26% on Rotten Tomatoes and 6.6/10 by IMBd. I personally believe the Rotten Tomatoes deserve at least a 55%+. I rate this movie a 7/10. Very good plot, just a somewhat lackluster ending.