My Girl Tugs At Your Heart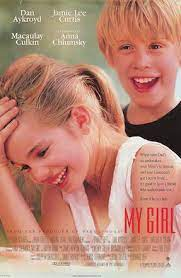 My Girl is an older film that came out on November 27, 1991. Just recently this film came out on Netflix to be enjoyed time and time again. Netflix released the movie on August 1, 2021. With a run time of 1 hour and 42 minutes, this movie can be enjoyed in a short amount of time.
This movie is a romantic movie mixed with drama. It is also heartbreaking and teaches many life lessons. This movie scored a 53/100% on the Tomatometer scale, which I believe is quite low. It did score quite high on the Audience scale though, with a score of 4 out of 5 stars. I think that the four stars are accurate. This movie follows a young girl, Vada, played by Anna Chlumsky, through her life and her best friend Thomas J, played by Macaulay Culkin. Eventually, Vada loses something that is very dear to her, and Thomas J goes to look for it, unfortunately, he does not make it through certain situations and passes away.
My Girl was directed by Howard Zieff. The producers were Brian Grazer, Ron Howard, Gigi Levangie, Veronica Smiley, Gavin Grazer, Corki Grazer, Akiva Goldsman, and Babaloo Mandel.