Covid Booster Shot Should Be For At Risk Patients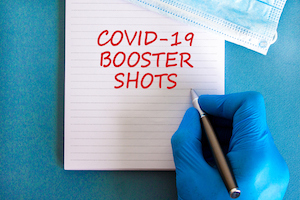 Are you eligible for a COVID-19 booster shot? Most workers above eighteen and/or have medical issues are completely eligible for a booster shot. Workers are currently the most important since jobs are currently coming back every day. Is getting a shot needed along with the effects and issues that may arise?

Getting the shot is a weird topic for a lot of people, including people who own businesses. My personal opinion is that the booster shot shouldn't be a required shot but a shot to take if the first 2 that you had have failed and you got the virus. I took answers from individuals and they all said that the booster shot should only be used or taken if their health is at risk. This would help both sides that are for and against booster shots.

The side effect for the booster shot is almost the same as the first and second shot. But with the booster, it's a little more potent so your arm will still feel horrible. If you were able to take the first and second shot without any problems that endangered your life then the booster shot should be fine as long as you don't push your body too much when you get the shot.

The issues that could and maybe will arise from taking the booster shot are all the same as the first two shots. There is a small chance that the booster will have a slightly higher chance of making any medical issues arise unlike the original shot(s). But for the majority of the time if nothing happened with the original shot then you should be fine with the booster shot.

To conclude, the booster shot should be a shot you take if you have any health issues that might lead to major injury or death if not taken or if you are in a heavy work environment where everyone is talking and around each other. It's a serious medical shot and should not be taken just because you have a feeling you might need it, you should only get it when you know that you need it.