Is Black Friday Worth It?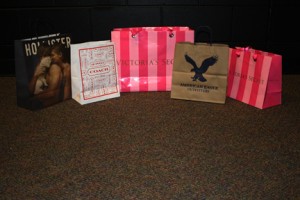 On Thursday, November 28 around 5:00 p.m. millions of people will leave their houses and go stand in lines for hours to get cheaper than usual goods. Otherwise known as Black Friday, this kick-off to the holiday season features millions staying up to the wee hours of the morning and usually a little bit of violence. As with every passing year, this year is sure to bring an earlier start time. Thanksgiving is no longer about the food; now it is about the ads and planning the night ahead. Items such as the iPad drop from prices as high as $500 to prices as low as $300 on this one night a year. So is Black Friday all it's hyped up to be? Is it worth losing a night of sleep over?
Senior Taylor Shattuck doesn't think so.
"It's too overwhelming," Shattuck said, "I don't want to die over the latest Barbie doll."
This brings up the issues of whether Black Friday sales are taken a bit overboard.
"Some people are willing to do anything to get what they want at a cheaper price," Shattuck said.
Others simply chose not to participate in the Black Friday madness simply because of other obligations.
"It's too much work to have to find a babysitter for my son," biology teacher Kari McCormick said.
Another big factor in battling the crowds on Black Friday versus staying home is the fact that many stores offer the same deals, if not close to the same, on their websites. Customers can purchase the things they want at the discounted price, without ever having to get off the couch.

Despite the many that decide to stay home and either do their shopping online, or the few that have given up on Black Friday altogether, there are still millions who will leave their houses on Thursday, November 28 after Thanksgiving dinner to go battle the crowds for a couple hundred dollars off their favorite products.