OE Wrestling 6th in Imlay City Invitational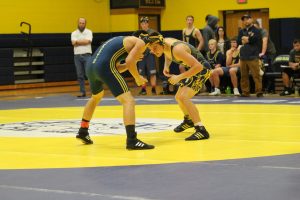 Ovid Elsie finished 6th place out of 20 teams Jan. 7 at the Imlay City Invitational.   
Coach Kyle Spiess said, "We voided five of the 14 weight classes and still finished in 6th place. We did very well considering the size of our team."
Team results were: 1st Imlay city, 2nd Mt. Morris, 3rd Byron, 4th Cass City, 5th Lake Fenton and 6th Ovid Elsie were the top 6 teams.
Individual results included, Mason Spiess was 4-0 with 4 pins to win 1st place, Max Spiess went 2-2 with 2 pins to win 4th place and David Hammond was 3-1 with 2 pins to win 2nd place.
Also competing were; Carrollton, Clawson, Farewell, Lutheran North, Lutheran Northwest, North Branch, Oxford B, Powers Catholic, Royal Oak, St. Clair Shores, St. Clair, Valley Lutheran, Waverly, and Webberville.
Brindon Juderjohn placed 2nd in the Junior Varsity meet also held at Imlay City.