Covid Vaccine Available Before Christmas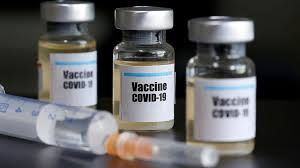 As more states go into lockdown, including Michigan, there is more rush for COVID-19 vaccines. Some doses of the vaccine could begin to be distributed on Dec. 14, according to Vice President Mike Pence. The week of Dec. 13-19 is planned to be ready to deliver 6.4 million doses, which is only enough to vaccinate about 3 million people because they will need two shots. However, this is not confirmed by the FDA yet.
Pfizer and Moderna are the two distributors of the COVID vaccine. Pfizer Inc. is an American multinational pharmaceutical corporation. It is one of the world's largest pharmaceutical companies. Moderna is an American biotechnology company based in Cambridge, Massachusetts. It focuses on drug discovery, drug development, and vaccine technologies based exclusively on messenger RNA.
According to statenews.com, Pfizer released a statement on Nov. 9th saying its vaccine showed to be more than 90% effective in its first interim analysis. The next week. Moderna said its vaccine was 94.5% effective, analyzing 95 positive COVID-19 cases from a 30,000 case study.
These new vaccines are different from any other vaccine ever created in history. Dr. Andrew Olive, a professor in MSU's Department of Microbiology and Molecular Genetics states, "Here, what we're doing is they're actually providing the Messenger RNA into yourself and having yourself make those proteins that you normally would introduce in the vaccine itself." Also these mRNA vaccines have a speed advantage over protein vaccines. "Not having to generate proteins allows Pfizer and Moderna the ability to produce millions of vaccines in a very short time," Statenews.com reports.
From the New York Times, the C.D.C advises that the first in line for the vaccine are healthcare workers, along with residents of nursing homes and other long-term care facilities. Then they recommend that all essential workers get the vaccine after. It is not required to get the COVID-19 vaccine, but is recommended by many health officials.