Michigan Panthers Secure USFL First Win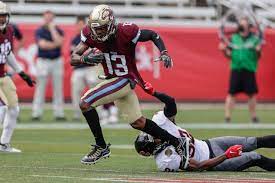 Birmingham- The Michigan Panthers (1-2) have secured their first win in the USFL. They did this in a dominate 24-0 win over the Pittsburgh Maulers. This is the first ever shutout in the new football league.
This season has not gotten off well for the Panthers or the Maulers, as both teams were 0-2 entering the proceedings. Paxton Lynch, who was originally drafted by the Denver Broncos in the first round of the 2016 NFL Draft, led the Panthers to two opening touchdowns.
The Panther defense dominated, allowing only 228 yards. Despite the similar stats between the two sides, miss opportunities and turnovers played a roll in the Maulers defeat. 2 missed field goals from 59 yards out and a blocked attempt set the tone for the Panthers throughout the game.
The Panthers will be facing the Philadelphia Stars (1-2) on Friday, May 6th.
Sources: https://www.theusfl.com/philadelphia-stars-team-schedule
https://www.mlive.com/sports/2022/05/michigan-panthers-run-wild-shut-out-pittsburgh-maulers-for-first-usfl-win.html