Indonesian Soccer Match Ends in Riot, 131 Killed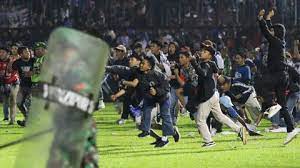 A soccer match turned deadly Oct. 1st in Indonesia, taking the lives of 131. Out of those 131, 32 kids were killed. In addition to the 131 victims more than 300 people had been injured.
It happened in the Kanjuro Han soccer field in Malang. Malange is a city in the east of the island Java in Indonesia.
The match was between the Arema Fc and Persebaya Surabaya. Attendance included 42,000 people who were there to support their team. The Arema Fc lost 3-2. According to sources, it had been 20 years since Arema Fc lost to  Persebaya.  The end of the  match sparked anger as 3,000 attendees took to the field to show their anger.
The police tried to stop the supporters without using weapons or anything but after the death of two policemen,  authorities used tear gas, causing the melee
to escalate. Attendees even started burning police cars.
The president Joko Widodo announced that he asked the police to investigate how everything started, and said that the families of the victims will get $3,000 compensation.
What happened in Indonesia is the second biggest disaster in the history of the sport.
Source: https://www.francetvinfo.fr/sports/foot/indonesie-ce-que-l-on-sait-du-drame-qui-a-fait-174-morts-dans-un-stade-de-football_5393290.htmlhttps://www.tf1info.fr/sport/bousculade-mortelle-dans-un-stade-arema-fc-malang-apres-le-drame-l-indonesie-cherche-les-responsables-2234165.html