French Police Have Suspect In Paris Child Killing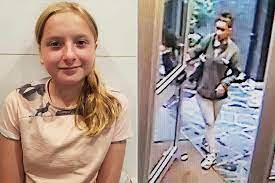 Lola, a young girl ,had been found dead in a big opaque plastic box by a homeless man in Paris on Friday 14 Oct.
Lola, age 12, she studied in the "Georges Brassens" Middle School near her residence in Paris.
Lola finished her day of school at 3 p.m. and she was going back home, but she never came back. Her dad was the guardian of the building she was living in so at 3:40 p.m. he decided to look at the camera and saw that she was in the building, but she never went home so he looked at the second person on the video and saw a woman behind his daughter talking to her. In the video Lola seemed really uncomfortable.
Two hours later people saw the woman with a big opaque plastic box and it looked so heavy.
At 8:45 p.m. Lola's parents posted on Facebook one picture of their daughter and a second picture of the woman talking to Lola with the posts they wrote the message "missing." 
At 11:20 p.m. a homeless man found the big box with the dead body of the young girl. Her wrists and ankles were bound and she had numerous wounds on her body and there were sores on her neck.The criminal squad took charge of the case.
The neighborhood told them that they saw the woman with the box.
On Oct. 15th at 8 a.m., the criminal squad arrested the suspect.  
The suspect is Dahbia B, age 24. In 2016 Dahbia came legally to France as a student, in 2018 she had been a victim, her boyfriend was beating her. On August 21, 2021 Dahbia had to go back to her country because her visa ended, but she stayed illegally. 
After the criminal squad arrested the suspect and interrogated her, it is alleged
Dahbia forced Lola to go to her sister's apartment because she lived in the same building as Lola's family. She allegedly forced Lola to take a shower and raped her, after that the woman torture Lola and then killed her.
The results of the autopsy said that Lola died of asphyxiation. On her feet there was written 1 and o with chemical products.
In Paris people went to where Lola was living and put flowers in front of the building to show support to her family.
Some people in France accuse the government of being too lax about immigrants or people from other countries. 
Information source:
https://www.tf1info.fr/justice-faits-divers/video-meurtre-de-lola-une-jeune-femme-au-coeur-de-l-enquete-6723-2235643.html
https://www.tf1info.fr/justice-faits-divers/video-c-est-affreux-ou-vit-on-apres-le-meurtre-de-fille-adolescente-lola-12-ans-a-paris-19e-arrondissement-les-riverains-encore-sous-le-choc-2235810.html
https://www.tf1info.fr/justice-faits-divers/meurtre-lola-collegienne-de-12-ans-paris-ce-que-l-on-sait-de-la-principale-suspecte-2235683.html
https://www.tf1info.fr/justice-faits-divers/meurtre-lola-collegienne-de-12-ans-paris-faits-ce-que-l-on-sait-de-l-enquete-2235746.html
https://www.linternaute.com/actualite/faits-divers/2670084-affaire-lola-la-suspecte-enfermee-a-vie-le-recit-du-crime-ouvre-deux-hypotheses/