Glass Onion: Second Knives Out Mystery Now on Netflix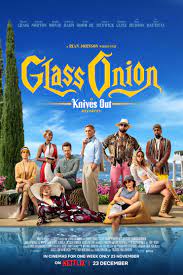 Glass Onion: A Knives Out Mystery, a Netflix release on December 23, 2022, is a great and interesting film. The film is rated PG-13 and is a mystery, murder, drama, and comedy genre. The wonderful murder-mystery style film makes it truly interesting to watch. I would highly recommend this film.
World-famous Detective Benoit Blanc returns to peel back the layers in a new Rian Johnson mystery. This fresh adventure finds the detective at a lavish private estate on a Greek island, but how and why he comes to be there is only the first of many puzzles. Blanc soon meets a distinctly disparate group of friends gathering at the invitation of billionaire Miles Bron for their yearly reunion on the premise of solving a murder-mystery game. As the plot unfolds, we see actual murder and mayhem afoot, and only Blanc can make sense of it all.
The film was written and directed by Rian Johnson. The actors are Daniel Craig, Kathryn Hahn, Madelyn Cline, Kate Hudson, and many more. The rotten Tomatometer has a rate of 92% fresh for that film. I would highly recommend this movie to all audiences and it is a great watch. Knives Out is superior, but Glass Onion, the sequel is brilliant.