Bridge of Spies Good Cold War Story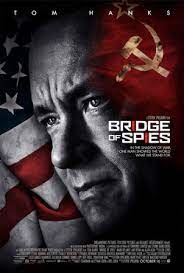 Bridge of Spies takes place during the Cold War and shows you what it was like to be living during that time. This movie is about a USSR spy who was captured and put on trial in the United States. Then a U.S. spy plane was shot down and our pilot was captured leading to a prisoner exchange. In this exchange, the U.S. is trying to get their spy back and a college student who was captured, however, the USSR is only willing to do one.
I give this movie a 9/10 because of the mystery that it has and because it is about our history. I recommend this movie to anyone who wants to learn more about what the cold war was like and who enjoys a thrilling movie. 
Rotten Tomatoes gave this film a 91% which is a high score. The original release date was  10/16/2015, but you can see it on streaming services. It is directed by Steven Spielberg. The cast includes Tom Hanks, Matt Charman, Ethan Coen, Joel Coen.