Madalorian Season 2 Out on Disney Plus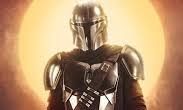 In the Mandalorian season 2 the Mandalorian (Mando) is encountering many obstacles in keeping the child (baby Yoda)safe. The child is what he is trying to protect. Faced with this obstacle, it comes down to whether the child gets to the safety of the Jedi's, or not. Season 2 follows the successful first season on Disney Plus, where Mando was introduced and the backstory of how he found the child and began to take care of him. It has gotten a solid following of viewers under the Star Wars universe.
Rotten Tomatoes rating: 94%
Produced by: Jon Favreau Cast: Pedro Pascal, Giancarlo Esposito, Carl Weathers, Gina Carano, Rosario Dawson, Katee Sackhoff, Timothy Olyphant, Michael Biehn.