UM Ranking Climbs to 14th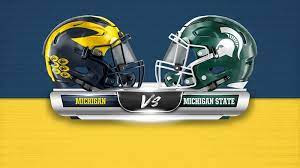 Michigan and Michigan State climb rankings ahead of this weekend's games
Michigan Football climbed the rankings this week after they beat Wisconsin (1-3) 38-17 on Saturday at Camp Randall Stadium. Michigan led the game 17-10 at halftime.
Michigan (5-0) ranked as the 14th best team in the nation coming into the game at Wisconsin. After the win the new rankings by the Associated Press shows Michigan as the ninth best team in the nation.
Michigan heads to Nebraska (3-3), and its Memorial Stadium, to play the Cornhuskers Saturday night. Nebraska last week beat Northwestern 56-7. The game will be a challenge for the Wolverines who are looking to start the season 6-0.
Michigan State (5-0) played Western Kentucky (1-3) at Spartan Stadium Saturday night. They won the game 48-31, and they were up 42-16 at halftime.
Michigan State was ranked 17th heading into the game against Western Kentucky, and after the new rankings released by the Associated Press, the Spartans find themselves as the 11th best team in the nation.
Michigan State will travel to Rutgers (3-2) and the SHI Stadium on Saturday, Oct. 9th. Rutgers played host to Ohio State last weekend, in a game they lost 52-13. Previously to this, Rutgers went to Michigan Stadium and played a competitive 20-13 game against the now ninth ranked Wolverines. Rutgers will be a test for a Spartans team looking to also start their season 6-0.
Sources:
https://www.freep.com/story/sports/college/university-michigan/wolverines/2021/10/03/michigan-football-adrian-martinez-nebraska/5984876001/