Duke Wins Over Kentucky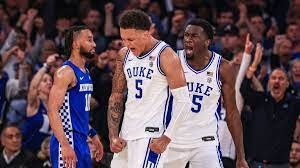 To open their season Duke played Kentucky in the State Farm Champions Classic at Madison Square Garden on Tuesday, November 9th. Duke was victorious by a score of 79-71.
Duke has largely been a successful team at Madison Square Garden as they are 39-18 when playing at the arena.
Duke was 1 of 9 in the first half from beyond the arc, and struggled to make their 3-pointers throughout the game. Despite this they led 39-35 at the break.
Duke's struggles on the perimeter continued in the second half as they went 0 of 4 in the second half, however, they managed to be significantly better inside the arc, as they managed over 50% field goal percentage.
Kentucky was 7 of 17 beyond the arc in the game but couldn't manage to use that to their advantage. Turnovers changed the tide of the game as Kentucky committed 13 turnovers to Duke's 9.
The Wildcats will play host to Robert Morris on Friday, November 12th as they hope to get their first win on the season. The Blue Devils will host Army as they look to continue their strong start.
Source: https://www.espn.com/mens-college-basketball/game/_/gameId/401369850