Varsity Bowling Splits Win/Loss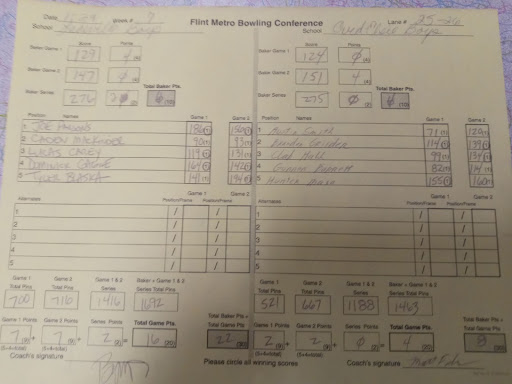 The Boys and Girls Varsity Bowling Teams traveled to Richfield Lanes on Saturday, January 29th to take on the Lakeville Falcons. The results were split as the girls team won their encounter and the boys team lost to the Falcons.
The girls team, which is first in the conference with a 6-0 record, outperformed the Falcons on the lanes. The team won the baker games comfortably and the team as a whole bowled well, losing only 2 points in the individual games to take home a comfortable 28-2 win.
The boys team, sitting near the bottom of the conference with a 1-5 record, fell to the Falcons. The teams split the baker games but Lakeville beat the Marauders to the bonus 2 points by 1 pin. The Marauders couldn't win enough of the individual games to mount a comeback as they fell to Lakeville 22-8.
Both teams will bowl at their home, Riverbend Bowling Corunna, on Saturday, February 12th.