Uncharted: One Wild Ride in Action Movies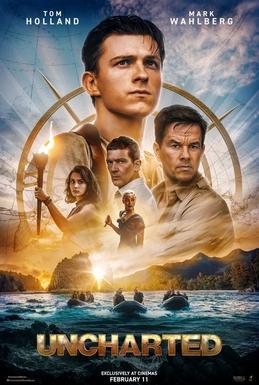 Uncharted was released on Feb. 18, 2022 and is available to watch in theaters. This movie is about a street-smart thief, Nathan Drake, who is recruited by a seasoned treasure hunter, Victor "Sully" Sullivan, to recover a fortune lost by Ferdinand Magellan 500 years ago. The two thieves have to decipher clues and solve one of the world's oldest mysteries before anybody else so they can find the treasure first. This movie is based off of the popular video game Uncharted. The director/executive producers of the movie are Ruben Fleischer, Avi Arad, Alex Gartner, Charles Roven and Ari Arad. The top actors of the film are Tom Holland, Mark Wahlberg, Sophia Taylor Ali, Tati Gabrielle, Antonio Banderas and Rudy Pankow.
Rotten Tomatoes gave this movie a 40% and it describes this movie as mildly amusing and exciting, bland and disappointing. I give this movie a 65% because I was engaged into the movie the entire time wondering what will happen next. The film has some hysterical scenes that most people will enjoy and it keeps your mind working to think of the new clues that the duo has to break. I do recommend this movie if you are interested in action and mystery, especially if you have played the Uncharted video games.