Review: The Internship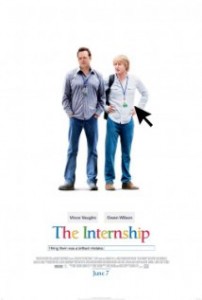 The movie "The Internship" starring Vince Vaughn and Owen Wilson is a family-friendly movie that will make you cry of laughter. This movie is great to watch because it's something you can watch with the family but yet it is still entertaining to you. This movie has an interesting plot but is still funny.
In this movie two salesmen have been hit by the modern age of technology. Billy (Vaughn) and Nick (Wilson) have been laid off as watch salesmen because the company ran out of business. Without much experience with technology they get an interview with Google.
During the summer they face the challenges of being an intern for the company. They compete with many other younger and wiser people for the spot. The people who work for the company create different challenges that each group has to accomplish. Although they are not the smartest they still try their best
Overall I wouldn't really change anything about this movie. I say this because it has a great cast with amazing actors such as Vince Vaughn and Owen Wilson. It also has new people that you really haven't seen in any movies but are still really talented actors like, Dylan O'Brien (Teen Wolf) who plays stuart and Tiya Sircar (17 Again) who plays Neha. Even though they are inexperienced actors/actresses they are still really talented and I could see them in more movies.
This movie also has a great story line. They made this topic relatable to today and they still made in really entertaining and fun to watch for the families at home.
Photo Courtisy of  Imdb.com.