New Students Compare Life in America to Home Countries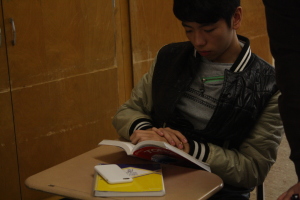 Keeping Quiet? Or branching out? The school now has a whopping 35 foreign exchange students for the year, many of which are outgoing and don't just talk within the other exchange students. But, others stay quiet.
I asked the exchange students Teodora Davidovic, Lukas Nowacki, and Fernando Bravo how their stay has been in America so far. The answers given were quite surprising.
Teodora Davidovic from Montenegro is staying with English teacher Dana Blank. She misses home, but she thinks the people here are very easy to get along with. She's made many new friends. She plays varsity volleyball and may possibly be a new addition to this year's competitive cheer team. Teodora likes the kids at school but dislikes the school food very much. She said, "Trig would be the hardest class for me."
Lukas Nowacki is from Germany, and he is staying with the Wagner family. He plays varsity boys soccer. "As of right now I'm not homesick," he said. However, he does miss Germany's chocolate, and he thinks that the chocolate here is awful. He likes the type of people here and that most of them can be pretty outgoing. Lukas shared that U.S history is the hardest subject for him to grasp.
Fernando Bravo is from Mexico and is staying with the Ross family. He plays JV football and may possibly be playing a winter sport. He misses his friends from home but also shares that coming to America is a good experience for him. He has found that the people are friendly and helpful along with the teachers being the same way. "I miss the freedom that I had back in Mexico," he said. Fernando also shares that algebra is the hardest class for him.