Novi Hosts Premiere of Film "Golden Shoes"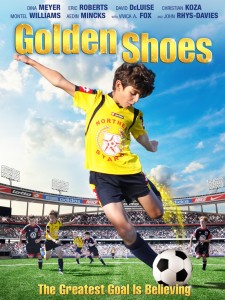 On September 24, the movie "Golden Shoes" premiered in Novi. Golden Shoes is for the whole family. With a heart filled and inspiring story, it pulls at your heartstrings and makes you laugh like no other.
Christian Laroue, a young boy with a passion and a soccer ball, has only his mother in his life. His Father is recorded MIA during his time in the military. Leaning on his mom with all he has, she suddenly gets into a life changing accident and Christian is forced into staying with his unwanted neighbor that wants nothing to do with him. All the neighbor wants is for his own sons to beat Christian at the great game of soccer. The neighbor then tries to get Christian a new pair of cleats that are supposed to mess his game up, but in the end he makes these cleats go in his favor. It's a classic feel good movie that leaves tears running down your cheeks and a smile on your face.
I was lucky enough to attend the Novi premiere with fellow OEOnline.org reporter Katie Ridgeway. The film is notable because despite having a nationally-recognized cast, it was filmed primarily in the Metro Detroit area.
Producer Norman Koza was responsible for coming up with the film's plot.
"Me and my son were in the soccer store and we both picked out the same pair of cleats and I immediately went home and started writing," Koza said. "I never thought I would be having my son in the movie to be starring as Christian Laroue. But it has actually worked out great so far."
The film means something special to him.
"It is a great inspirational story that teaches kids to never give up on their dreams," he said. "I wanted the kids that have parents in the military to know, or the world to know what it's like to have a parent in the military."
Throughout the film, the whole theater cheered and laughed. It's a movie we would both recommend for families and people of all ages. Golden Shoes is available on-demand online and on DVD October 6, 2015.