Freshmen Take Time to Adjust to High School Life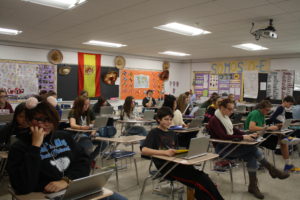 Being new to an entirely different setting can be very overwhelming and sometimes scary, but this year's freshmen seem to have everything under control. High school may be more difficult than lower grades, but most people say that it's not nearly as tough or as intimidating as it's made out to be.
"It's not really as difficult as they say in middle school," freshman Ella Sheedlo said. "It's a little harder but after adjusting, it's not too bad."
High school seems to be a great opportunity for some students, from homecoming spirit week to other sports that they don't have in the middle school.
"It's fun to have all these activities with our friends because we didn't have that in previous grades," freshman Jacob Chrenka said. "We definitely have more freedom than in middle school."
One main thing that freshmen think is bad about moving up into the high school is being the runts of the school. It's understandable to be nervous around the upperclassmen, but in all reality, they're people, just like everyone else.
"Some of the people are a little intimidating," Chrenka said. "But when you talk to them, you see that they're really not all that bad."