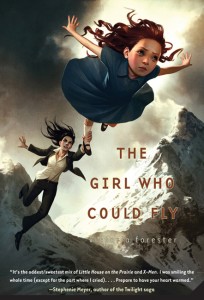 A girl who can fly? It may sound childish, but in fact, this book is one of the best I've ever read. Piper McCloud lives on a farm, and, you guessed it, she can fly. Suddenly, she's whisked away to a top secret government school for special kids like her. Her new friends have all sorts of unique talents: telekinesis, x-ray vision, even the ability to create their own weather. Everything is perfect, until Piper finds out that nothing – not even the mouthwatering food that screams, "Eat me!" – is what it seems.
This book has a fantastic plot. The climax kept me on the edge of my seat, and the conclusion left me satisfied. The characters also fit in with the story well – from Sebastian, the friendly cricket, to Conrad, the super-genius. The author had such great voice in this book, it made me want to stand up and cheer on Piper and all her friends.
I would definitely recommend this book to anyone. On a scale of one to ten, I'd give it eleven. If you'll just let her, Piper will fly off the pages of this book and into your heart.
Story continues below advertisement