Review: "Megan Meade's Guide to the McGowan Boys" by Kate Brian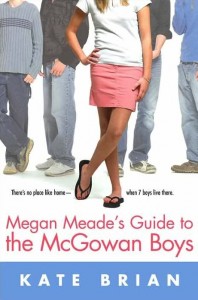 In the book "Megan Meade's Guide to the McGowan Boys," there is a surplus of drama. It's about a girl named Megan who goes to live with seven boys: Sean, Evan, Finn, Doug, Miller, Ian, and Caleb. Megan has to survive their torments and Evan's girlfriend Hailey who's as mean as an angry tiger.
This book is suspenseful, exciting, funny, and shocking. Once I read the first two chapters, the book totally hypnotized me, I couldn't put it down. Even though some of their actions were distasteful, it was realistic. The author used great word choice and it was well organized, so I was never confused. However, I did not like how the seven brothers treated each other in parts of the book. Other than that it was a job well done.
In conclusion, I would give this a thumbs up. If anyone read this book, they too would find it was a wave of emotions. I would recommend that people read this book by Kate Brian.