O-E Middle School Science Teacher Mr. Wertz Tells About His Year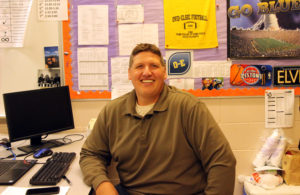 The school year has just begun, and 7th grade science teacher Brian Wertz is excited to kick things off. He said that the kids have been great so far, and that they all seem to be very interested in science class.
Even though the kids seem to be interested, none of them have seemed to notice the curriculum change. Since the arrival of the new 6th grade science teacher, there's been a minor shift. Now the kids are learning about genes in 7th grade instead of 6th.
That hasn't stopped Wertz from continuing his experiments though, but that doesn't mean all of them go according to plan. He talked about an experiment he set up that ended up just flopping. "Everything that could go wrong, did go wrong," said Wertz. By the third hour of the day, he just knew he had to accept the fact that this experiment wasn't going to work.
And, even though some experiments do not work, he still tries to conduct some of them outside when the weather is nice enough. Especially when Wertz is teaching his favorite subject, weather.
"I've always been fascinated by weather." Wertz said. "I think it's pretty amazing how the sun impacts everything on the planet."
And since the beginning of the year, Wertz has been trying to reach a goal he set for the class: teaching them that it's okay to ask questions. He said that so far during discussions all the kids are asking plenty of questions, and, by the way it sounds, the students are on their way to reaching that goal and have a great year.