Haunted House Terror on 27 Earns High Ratings: Scary Good!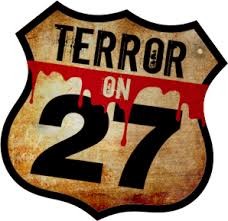 Terror on 27 is a haunted house Amusement on South Bagley Rd in Ashley. They do not have an age limit but they advise that no one under the age of 10 should attend. They have four different things you can do, three are $7 and the fourth is $10.
The first is called Insanity, " The original house of terror takes you on the ride of your life. After staggering through a tunnel of delusion, you're met by our deranged bellhop who send you down to the gates of hell. From there, insanity takes over. Minds are lost, vision is impaired, and souls are stolen."
The second is called Entanglement, "A  twisted path path through the darkness of the night takes you down to the depths of our mine shafts, if you can make it out of the waterfall of blood you will be forced to navigate yourself out of the foggy, pitch black hallows."
The third is called Animosity, "This is a true maze! You must find your own way out while being followed by your worst fears. There is no direct route from beginning to end."
The last has not been there for long it was originally just a house but they converted it into The House. " We opened up our original haunted Victorian house where you will get a highly interactive opportunity to meet the ones who preceded us all. It's rumored that our guests get launched from our attic!"
I just recently went to Terror on 27 and went to three of the four attractions. I went into The House first, it was really creepy when you walk in and all the rooms have something different in them. When you get upstairs, there are some rooms and then you go into the attic. When they say that it launches people from the attic they have a little slide that takes you to the end.
The second one was Animosity, when they say it is a true maze it really is because some may spend half an hour trying to get out. They have people throughout the maze that scare people.
The last one was Entanglement,this one is good but they should warn you if you are claustrophobic. You have to go through a small space that is really tight when you like first go in. Other than that, its is good at scaring you. If I had to rate Terror on 27 out of 10 I would give it a 9.
They will be open again September 28th next year. They are open on the weekends from 7:30 pm to 10 pm. I would recommend going there if you like a good scare. They will definitely do a good job at it.