Madden 18, A Solid Game At Any Skill Level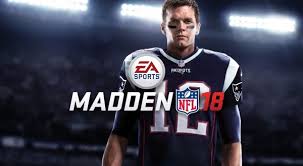 Madden 18, originally made in 2017, is a console-oriented game made by EA Sports. There are many things that I love about this game, but there are some flaws that brings my review downhill.
    My first issue with Madden 18 is that it locks up and freezes all of the time. I have experienced this at different people's houses on different types of consoles such as Xbox One and PlayStation. You may be right in the middle of a game and it will stop and not respond to anything you do with the controller. To fix this, you have to manually turn off the console, restart it, and lose all of your hard-earned progress. This can be very annoying when trying to play a franchise. Despite this, EA did make an effort to stop this from happening.
    Something that was added to the Madden series was the autosave feature. It used to only activate while in the middle of a season. Now, the game will autosave your franchise in the middle of games frequently, so that if an error occurred or you had to turn off the console, then you could just turn it back on later and start where you left off.
    Another thing that I like about this game is that it more accurately captures the realistic capabilities of a player. Madden 18 still updates its rosters and skill levels, despite the fact that Madden 19 had already been released. It also allows the chance to download the current rosters of teams, allowing gamers to be able to use players such as Baker Mayfield and Nick Chubb on the Cleveland Browns, which could not be done in previous games, which forced people to buy the next game. Overall, updates have made the game more realistic.
    Madden 18 is a solid game to buy if you are looking for quality sports entertainment. You can get right into the action without worry of the screen-locking, getting in the way of your game progress. If I were to rate this game out of 10, with 10 being the best game ever, I'd rate it a solid 8.5. Madden is a great franchise to start playing, whatever skill level you are, so why not pick up your controller and start a new road to victory.