Robotics Team Gets AED for Competitions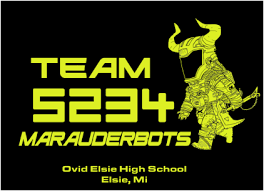 Ovid-Elsie High School staff and students may notice a new Automated External Defibrillator as they make their way down to the information center. Robotics leader and science teacher Brian Topping was awarded with a grant from Sparrow Health Systems – Clinton.
Topping originally was awarded the new A.E.D for his robotics team with one stipulation. When the team is not competing the A.E.D must remain at the school for emergency use. This makes the fourth A.E.D within the building and is placed in the middle of the others for easy accessibility for the building emergency response team (also referred to as the BERT team). This team is comprised of trained individuals throughout the building in case of an emergency situation.
Topping admitted the AED may have contributed to the Robotics teams safety award at their last competition at Kettering University. Although Topping has never used one, he as well as others on the team do know how