Characters Develop in Schitt's Creek Saga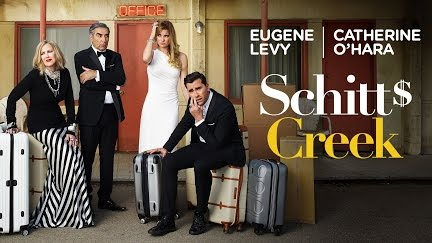 Schitt's Creek is a 5-season, TV-MA sitcom on Netflix. The show's comedy and important lessons make it an interesting and fun show.

The Rose family has a huge family fortune. When their business loots all of their money, they lose their house, as well as most belongings. The Roses must relocate to the small town of Schitt's Creek, where they will live in a motel until they get back to their feet. While the Roses are living in the quaint town, they meet new friends, learn how to appreciate what they have and to be better, more kind people.

As the show progresses, though they are still living in the motel, David, Moira and Johnny's son, opens his own store with his boyfriend. This teaches him how to manage money and a business, as well as how to work together and compromise. His boyfriend, Patrick, teaches him how to have a healthy, loving relationship. Johnny starts working at the motel with the owner, Stevie. Moira manages a choir group of women from town, which teaches her to be more understanding and compassionate towards others. And Alexis, David's sister, learns many important lessons about love. From being in a casual relationship for a few months, to being engaged and then breaking it off, and finally to being a serious relationship, she has learned to compromise and be more kind and understanding to not only her boyfriend, but to her friends and family as well.

Schitt's Creek was created by father and son- Eugene and Daniel Levy, who also star in the show. The script offers comedy as well as heart-felt conversations of self-discovery and love as the Roses learn more about the town and it's residents.

Eugene Levy's role on Schitt's Creek as Johnny Rose provides a calm, more rational member of the family. His acting shows his character's love and support for the family, while also providing enough rationality to make up for the rest of his family.

I would rate this show 5 out of 5 stars. The great script shows hilarity, as well as teaches important lessons on selflessness and love. With important themes and great acting, Schitt's Creek is a great show.