Holiday Movie and Musical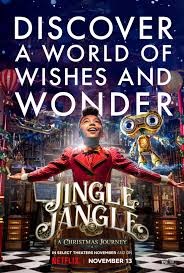 Jingle Jangle came out on Netflix on Nov. 6th, 2020. This movie brings a musical into a Holiday movie.
Mr. Jeronicus Jangle was the greatest inventor of all times until his trusted apprentice stole his greatest ideas. After decades of not being a joyful inventor and he was giving up hope his granddaughter Journey showed up at his doorstep and changed the way he saw his inventions.
Rotten Tomatoes gave this movie a 92% rating. I think I would recommend this movie because it was a very cute movie. I would give this movie a 9 out of 10. These actors and actresses did a great job making this movie. Jeronicus Jangle (Forest Whitaker), Jessica Jangle (Anika Noni Rose), and Journey Jangle (Madeline Mills). Jingle Jangle was directed by David E. Talbert.