How To Train Your Dragon Fun For Family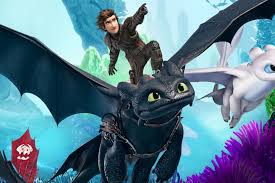 How To Train Your Dragon, is a Family/Comedy, released March 21st, 2010.
It stars actors: Jay Baruchel, America Ferrera, Gerard Butler, Craig Ferguson, Christopher
Mintz-Plasse, Jonah Hill, Kristen Wiig, TJ Miller, David Tennant, Kieron Elliot, Robin Atkin
Downes, Djimon Hounsou, Ashley Jensen, Philip McGrade
It was directed by director: Chris Sanders and Dean DeBlois.
The plot follows Hiccup (Jay Baruchel) is a Norse teenager from the island of Berk, where
fighting dragons is a way of life. His progressive views and weird sense of humor make him a
misfit, despite the fact that his father (Gerard Butler) is chief of the clan. Tossed into dragon-
fighting school, he endeavors to prove himself as a true Viking, but when he befriends an
injured dragon he names Toothless, he has the chance to plot a new course for his people's
future.
Rotten Tomatoes says: 8/10 Rating
"A very good show about friendship and humanity in a great fictitious world. How to Train Your
Dragon, an animated wonder of a film, does have often-familiar, heartwarming themes about
individuality, acceptance, teamwork and prosthetics. It also has wicked awesome dragons."
After reading reviews and watching this movie myself several times, I believe it is a great family
favorite to watch. I watched this movie for the first time a few weeks ago, and after watching it
once I keep watching it. 6/10 rating This movie is a very fun filled family movie. There was never a dull
moment in the movie. I believe that people of all ages would love to watch this movie.