Enola Holmes Filled with Suspense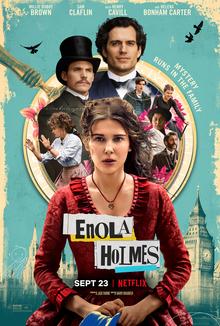 Enola Holmes is a newly released film on Netflix. This movie is action packed and suspenseful.
When Enola Holmes' mother goes missing, she sets out to find her in London and along the way meets a runaway lord. She uses her detective skills to solve the mystery all while trying to not get caught by her big brothers, Sherlock and Mycroft Holmes.
This movie stars Millie Bobby Brown, Louis Partridge, Henry Cavill, Sam Clafin, Helena Bonham Carter, Fiona Shaw, and Adeel Akhtar.
This movie was directed by Harry Bradbeer and was produced by Millie Bobby Brown, Paige Brown, Alex Garcia, Ali Mendes, Mary Parent.
Enola Holmes came out on Sept 24, 2020 and it is in the Mystery And Thriller genre. This movie runs for 2h 3m.
Rotten Tomatoes rated this movie a 7/10. I would rate this move an eight or 9/10. I enjoyed this movie because it was an interesting twist on the Sherlock Holmes stories by following the point of view of his sister. It also was an attention grabber and had action and drama to keep it interesting and suspenseful.