OE Varsity Boys Basketball Posts 61-28 win over Montrose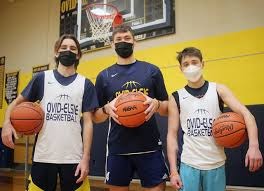 On Feb. 22 the Ovid-Elsie Varsity Boys Basketball team took on the Montrose Rams in Montrose at 7pm. The Marauders won this game 61-28 with leading scorer Jackson Thornton with 9 points, on the defensive side Cal byrnes led the team in steals with 8.
This game was a conference game and was a big win for Ovid-Elsie in looking for another conference championship. They are currently 4-1.
Coming up on Wednesday the Marauders play away at Bendle at 7 pm.