Falling Inn Love Rom Com Highly Recommended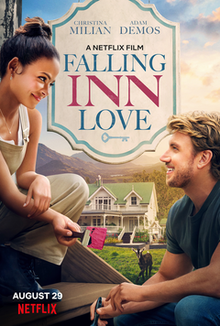 Falling Inn Love is a 2019 American romantic comedy. It came out on Netflix, August 29th, 2019.
It follows Gabriela Diaz, a San Francisco designer, breaks up with her boyfriend Dean and enters a contest to "Win an Inn" in the New Zealand countryside. She then finds out that she won the contest and travels thousands of miles to discover The Bellbird Valley Farm that is a crumbling house, a floorboard-treading goat, a very nosey neighbor who comes over all the time, and a Land Rover that is from the 1960s. The owner of the town's only B & B was relieved that the owner's great-grandson entered the house in the "Win an Inn" contest to get rid of it. Gabrials decides that she is going to do an eco-renovation to restore the Inn to its original beauty, but the town's restoration expert, Jake Taylor, a volunteer firefighter, wants to take the project on 50-50. Dean then shows up unexpectedly with an offer to buy the Inn and have Gabriela return to city life. However, after a sudden fire at Charlotte's B&B and Jake's Near-death experience Gabreila decides to stay and run the Inn with Jake.
Rotten Tomatoes gave this movie a 6 out of 10 rating. I would give this movie a 8 out of 10 also because it just has a new twist to a "normal" love story.
The actors and actresses in this movie are Christina Milian (Gavriela Diaz), Adam Demos (Jake Taylor), Jeffrey Bowyer-Chapman (Dean Conner), and Anna Jullienne (Charlotte Wadsworth). The directors and filmmakers of this movie are Roger Kumble, Robyn Snyder, Mel Turner, Elizabeth Hackett and Hilary Galanoy.