Foreign Exchange Students Compare Food in the States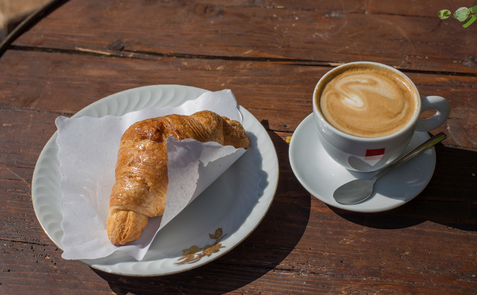 Ovid Elsie High School has three foreign exchange students second semester, all of whom are in the journalism writing class. They were tasked with writing about cultural differences in food that they have found so far. Here are their responses.
ITALIAN FOOD (Silvia Avanzi, Milan, Italy) In Italy the food we eat during breakfast is very different from here. We usually don't eat a lot, maybe one fruit, or some milk with cereal. A lot of people drink coffee but Italian coffee is very different from American, or milk or tea. Usually, I eat croissants and drink tea. If you eat something at breakfast it is always something sweet. We don't have breakfast together, a lot of people in Italy don't do breakfast, and also during the weekend we don't eat together for breakfast.
For lunch in Italy during the week we eat something fast, and sometimes we are not all together, for school or work. Like none in Italy, eat pre cooked food that you only have to put them into the microwave. We usually eat meat or fish. But during the weekend we always eat together and eat different meats, like lasagne (that takes a lot of time to make), braised, spiedo with polenta (is a typical food from where I live), roast or meatloaf. Usually they are always homemade.
This one is the spiedo with polenta, my family only made it like twice a year because you have to "spiedare" that means prepare the meat the day before and it takes like two or three hours, then the spiedo need to hang from the ceiling for one night, the morning after you have to wake up early because it take four hours to be ready. Snack, in Italy we call it "merenda" usually at 4 pm, during the afternoon we eat something like a snack, but snacks in Italy are more healthy than here. Dinner, is when we are always together, is the most important meal of the day. Usually we eat pasta, gnocchi, ravioli, pizza, risotto and also panzerotti. I love panzerotti, they are made with the same dough of pizza, but they are crescents, closed and fried; and you can put inside what you want, like the pizza, they are like a fried pizza.
Usually we eat pizza once a week, Saturday or Sunday night. My family and I always make homemade pizza, like every Italian can make pizza. We stay together for a long time during dinner and we eat at like 7 or 8 pm. When it is Christmas, Easter or someone's birthday we always stay with our family and have a big lunch that starts at 12 pm and can finish at like 4 pm, and we eat a lot. For the birthday we usually take two parties, one with our relatives, they go to the birthday boy or girls and eat a pie, and then with only our friends. Also pies are different, in Italy are less sweet. In Italy we don't put a lot of sauces or spices like here. Also I discovered that in America there is "Italian food" that in Italy doesn't exist; like Alfredo, in Italy this one doesn't exist and my host family thought that was so common in Italy. Americans think spaghetti and meatballs are a top Italian food, it is not at all; in Italy we don't eat it like ever.
Also we don't eat a lot of spaghetti, I think they are the type of pasta that we eat the least, we usually eat penne; my family only eats spaghetti with carbonara sauce ( a typical Roman meat).
German Food (Jonas Neumeier, Munich, Germany)
Although German and American food are in some ways quite similar, there are still some differences. Normally, Germans use more fresh ingredients than Americans and cook healthier since fast food isn't very popular in Germany. Starting off with breakfast, German breakfasts are usually a lot lighter than American ones and are mostly served cold. They consist of a lot of bread, fresh ham, cheese, cold cuts and maybe some boiled eggs. Germans usually don't eat sausages or pancakes for breakfast. In terms of drinks, a fresh orange juice and coffee are very popular. At lunch, however, the sides change. Lunchtime was traditionally a time where the whole family came back home to eat together. These lunches are almost always hot and sometimes even bigger than dinner. Goulash, stew or roast chicken are often served. This custom is getting harder to maintain, as families don't have the time to come together, going to a Metzgerei (butcher) and getting a Bratwurst or Schnitzel or roast pork sandwiches is getting more common. In comparison to that, American lunches are a lot smaller. They're either leftovers from the night before or just cold sandwiches with some chips. At dinner, there is a lot of diversity in Germany. A very common German tradition, the "Abendbrot" consists of fresh grain bread, sausages, cold cuts and some cheese. But not every German family follows this tradition, some prefer to have a hot dinner even during the week. Nevertheless, on the weekend German dinners tend to be very big, as roast meat and Schnitzel are very popular for a dinner onSundays. Besides that, Germans also like to go out for dinner, since there are especially Italian and Greek Restaurants even in the smallest towns.
Finnish Food (Hannah Pappila, Helsinki, Finland)
Breakfast: In The United States a very full breakfast is normal. Pancakes, bacon, sausage, toast and eggs. Beverages are usually different juices or coffee. Finland is the number one coffee consumer in the world. We drink multiple cups of coffee during the day and for a lot of people it is even considered an addiction. Breakfast in Finland is typically very light and it is not uncommon to not eat any breakfast. Yogurt, rye bread, an omelette, porridge, a smoothie or a fruit are the most common breakfast foods. Healthy, "clean" food is very much encouraged and appreciated in Finland.
Lunch: In the U.S. a lighter lunch is common. Now, lighter still doesn't mean healthier because a lot of the foods are still full of fats and grease and don't really give any nutrients. Different sandwiches, fries and a side vegetable is common. In Finland lunch is the most important food of the day because it gives you energy for the day so we focus on fulfilling nutritious food. A common finnish lunch would be a soup, rye bread and a side salad. Finnish people go by the Finnish plate model when choosing lunch. The Finnish plate model states that half of your plate should be vegetables, 25% should be carbohydrates and the other 25% should be protein such as meat. Bread with lots of fibers is recommended. My favorite Finnish lunch is spinach pancakes with lingonberry sauce. 
Dinner: American dinner usually consists of potatoes in different forms such as mashed potatoes or different types of noodles/pastas. Meat is the most common protein source and vegetables are usually cooked beans, peas or broccoli. Finnish foods may sound weird to a foreigner because of some of our weird ingredients in them. Herring is one of the most controversial foods in Finland with some hating them and some loving them. They are served either fried or in a pickled can. Bloody food is a common thing in Finland, my favorites being bloody sausages and pancakes. Sausages are a very big thing in Finland. They are served grilled and grilled food is one of the popular summer dinners. Reindeer is also a meat that we eat in Finland because of the large population of reindeer in the north of Finland. Sautéed reindeer is usually eaten with mashed potatoes and lingonberry sauce. Lingonberry sauce is also a common sauce eaten with our country's neighbors, Sweden's meatballs and mashed potatoes. Our food culture is very similar to Scandinavian foods. Casseroles and soups are also a popular Finnish dinner, soups are always eaten with ray bread on the side.