Love Hard Rom-Com Describes Modern Dating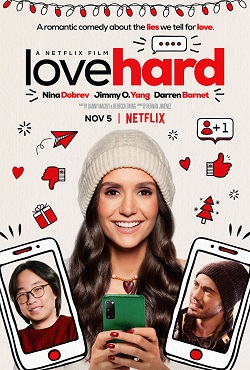 The Movie Love Hard is about an L.A. writer named Natalie, who never has luck with finding the
right guy, that is until she meets a guy named Josh she matched with through an online dating
app, who happens to be cute and has a sense of humor that almost seems too good to be true.
The holidays come around and he wishes her to be there for Christmas. She wants to be with
him too so she decided to fly 3,000 miles to surprise him for Christmas. When she gets there she
learns that she has been catfished, "deceived by his profile," and runs off to the nearest bar
where she meets the actual guy Tag, whose photos were used in Josh's profile. Josh happens
to know him because they were friends when they were little so Josh decided to help Natalie get
Tag as long as Natalie pretends to be Josh's girlfriend until after Christmas. The movie stars
Nina Dobrev as Natalie, Jimmy O. Yang as Josh Lin, Darren Barnet as Tag, Harry Shum Jr. as
Owen Lin, Rebecca Staab as Barb Lin, James Saito as Bob Lin, Mikaela Hoover as Chelsea,
Heather McMahan as Kerry, and Althea Kaye as Grandma June Lin. Rotten Tomatoes rated this
a 52% stating,"A Hallmark Channel holiday movie on a Netflix budget. The characters are bland,
the performances not much better and the writing almost instantly awful." But the audience rated
it a 95% and I couldn't agree with them more. I think that this movie was funny and realistic for
the most part, and it basically shows that in the end you love personality over looks, because
personality is what really matters when you love somebody. I rate this movie a 100%, I
recommend you watch this movie if you like rom-coms and it's a perfect movie to watch for the
holidays.