French Presidential Elections Under Way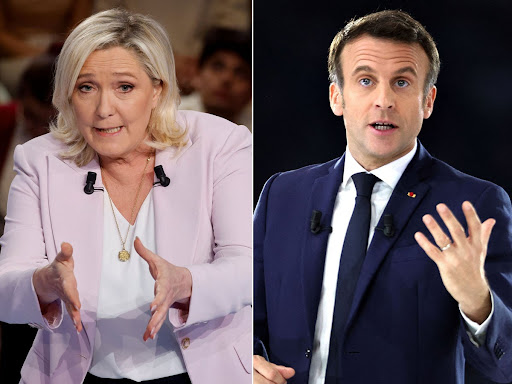 France held the first round of its presidential election on April 10th. The top two candidates who received the most votes, incumbent Emmanuel Macron and Marine Le Pen, will advance to the second round where the next president will be chosen.
Macron, the incumbent president, received over 27 percent of the votes, while his challenger, Le Pen, secured a little more than 23%. Macron and Le Pen last ran against each other in the previous election in 2017. Then Macron trounced Le Pen in the second round 66% to Le Pen's 33%, however, polling indicates that this election will be much closer between the two, however, Macron still maintains a small lead against Le Pen in the opinion polls.
Macron, a self styled centrist, has approval ratings in the mid forties. Many conservative and leftist in France see Macron and his party "The Republic on the March" as being influenced by the US and cowing to US interests. Macron has faced criticism from the recent economic slump of the French economy due to increasing fuel costs.
Right wing candidate Marine Le Pen represents a nationalist wing of France. While Macron is seen as the president of the educated and elite, Le Pen is seen as the voice of the blue collar workers. Le Pen believes that France should distance itself from the European Union and completely leave NATO. She and her party "National Rally" believe that "woke Americanism" is being brought from America to destroy French society.
Far Left candidate Jean-Luc Mechelon secured just under 22% of the vote narrowly losing to Le Pen in the bid to the second round of the final election. Mechelon and his party "France Unbowed", who advocates for a French withdrawal from NATO, saw support surge late in the opinion polling after Russia's invasion of Ukraine and the subsequent rise in fuel prices. Mechelon advocates for France leaving the American sphere of influence and becoming more independent and neutral in world politics.
This election follows the true departure of France from its traditional political party. In 2017 neither the Socialist party nor the Republicans, France's traditional center left and center right parties respectively did well. However they had hoped to regain their promminice with this election, but have failed miserably at that task. The Socialist Party only received 1.7% of the vote and the Republicans only received 4.8% of the vote. This leaves France's political establishment in the dirt as National Rally is the only major party that wasn't founded in the previous decade. Even then National Rally has only recently become a major political player in France.