10 Things I Hate About You Honors Shakespeare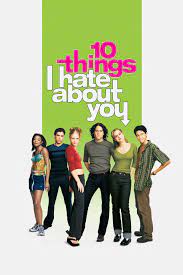 The film 10 Things I Hate About You is a classic movie that peaked in the early 2000s. The movie was released on March 31, 1999. It is rated PG-13 and the genre is romance and comedy. This movie is relatively family-friendly and a great film.
This film starts with a smart and hard-headed teen, Katarina Stratford, whose rather tenacious personality does not attract many boys. When her younger sister Bianca cannot date until Kat does, a scheme is set in place. Patrick Verona, being a part of the scheme crosses paths with Kat. Will this scheme work in both Kat's and Bianca's favor?
10 Things I Hate About You is directed by Gil Junger and produced by Andrew Lazar. Stars of this film include Julia Stiles, Joseph Gordon-Leavitt, Larisa Oleynik and the late Heath Ledger. On the Tomatometer, it is rated 71%. It projects great lessons for teenagers and is an alluring film. In this, paying homage to William Shakespheare and other classic writers show how society does know how to handle strong women. In the end, I highly recommend this film to all viewers.