Rebel Wilson Carries Senior Year Movie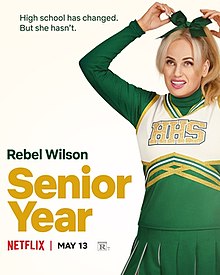 Senior Year, directed by Alex Hardcastle, is about a cheerleader (Rebel Wilson) who falls off her pyramid stunt and gets into a 20
year coma. She wakes up as a 37-year old woman but still has the mind of a 17 year old girl. Ready to return to high school and
regain her status, she wants to claim the prom queen crown that eluded her. The main cast of this movie stars Rebel Wilson as
Stephanie, Justin Hartley as Blain, Angourie Rice as young Stephanie, Zoe Chao as Tiffany, Sam Richardson as Seth, Mary Holland
as Martha, and Jade Bender as Britney. Rotten Tomatometer rated this a very low score of 24% with one of the top critics saying,
"Ultimately, Senior Year is a movie with nothing new to say. The film lacks fresh ideas, so it simply plays like a bad cover of a hit
song." I would rate this movie a 8/10 because it's not one of those movies that I go to look for to watch, it's just one where I can't find
anything else then I would choose this one. I think Rebel Wilson has so much chemistry with literally everybody on screen, which is
what makes the movie amazing, but other than that the movie is just kind of one of those basic high school movies.